20th June…It's Mary Malar's birthday and Father's day in most of the countries not in Australia… Here they celebrate father's day on the 1st Sunday of September… Anyway there is a very good reason for a cake…So decided to  make a cake… haha of course Mary Malar won't be able to taste it… The thought counts most haha…
Checked my cupboard and fridge… mmmm decided on cheese cake… Easy to prepare just the chilling time will take 3 hours… will be on time for tea I reckon… As usual had to modify the ingredient cause too lazy to go out to the shops… and dear friends… we don't have to be very accurate in the measurement… It will come out well… trust me… I am not that great baking expert… Just try out…
CHEESE CAKE  (The original recipe) Which I had to modify according to the contents of my cupboard and fridge…
Ingredients
350g Oreo Original Cookies (had 2 packs of 150g each)
80g Butter, melted
375g Philadelphia Block Cream Cheese, softened (I used only 250g which was in my fridge)
1/2 cup caster sugar (I don like sugar in my cheese cake)
1 teaspoon vanilla (I use Almond essence)
1 cup cream
3 teaspoons gelatine dissloved in 1/4 cup boiling water (no gelatine in any of my cookings)
200g white chocolate, melted, cooled slightly (haha this is the best… I will normally use what ever chocolate in the fridge… ad this time was toblerone) and the grams can vary according to your love for chocolate…
STEPS
1. Place 250g Oreo Biscuit in a food processor and process into fine crumbs. Add the butter and process to combine. Press the mixture into a greased and lined pan and chill it.
2. Beat the cream cheese, sugar and vanilla with an electric mixer until smooth, then beat in the cream. stir through the gelatine and white chocolate.
3. Roughly chop the remaining cookies and stir through the filling, the pour over the chilled base. Refrigerate for 3 hours or until set.
Prepared base… Chill it while preparing the cream and cheese…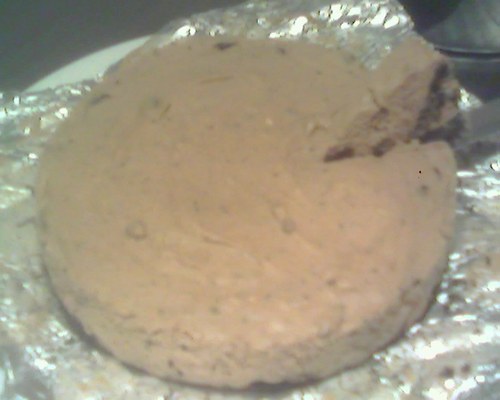 Ready to eat CHEESE CAKE… Not a good photo… Taste very good thou….