Cekodok pisang is a very famous Malaysian breakfast or tea time snack… Reckon this recipe would have been created to use up over riped bananas… not to waste any… eventually now it's one of all time favorite… Cekodok pisang, that is the what I know it as, is banana ball…
Uneshini's hand stealing the fried Cekodok Pisang and beside is masala tea in the boiling process...
Suba said it is called Jemput-jemput in Singapore… and she said they do it with the orange sugar… She they use this sugar in Singapore for making snacks and also for idhi apam… Me and Unesh were surprised and have never seen or heard about orange sugar… I usually use brown sugar or any normal sugar… Suba had to convince us and brought the sugar… yeah today's tea time snack is our very own Cekodok Pisang… Jemput-jemput… Vaalai pazham kokoi… banana balls… or what ever you call it… we are gonna make it and eat… Suba is the chef today… Me and Uneshini were the assistants… of course Unesh helped more on the eating part 🙂 PS was just waiting for the cekodok to come to the table with the tea…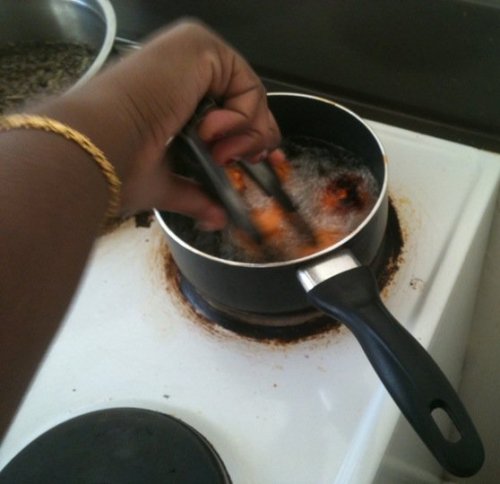 Chef Subathra busy at work
Yeah I know… everyone knows how to do it… it is my pleasure to share how we did it…
Cekodok Pisang
Ingredients
Some riped banana
Sugar (Brown sugar/ Raw sugar / White sugar ) Orange sugar is what we used… Suba brought from Singapore
Pinch of salt
Cinnamon powder
Milk
Plain Flour
Steps
Mash the banana or blend banana, milk, sugar, salt and cinnamon together.
Add plain flour gradually into the mixture and make a think batter.
Heat the oil.
Make small balls (sized as you desire) with tip of your fingers or used a small spoon to scoop it.
Cook in medium heat.
Nice smell and taste good too… It is oily stuff and a good diet choice… Very delicious thou… Kids love it and we love it too… We all had it with our masala tea… was a good evening… Another very important thing is the orange sugar… never knew it until today… only in Singapore maybe…  Thank you Subathra…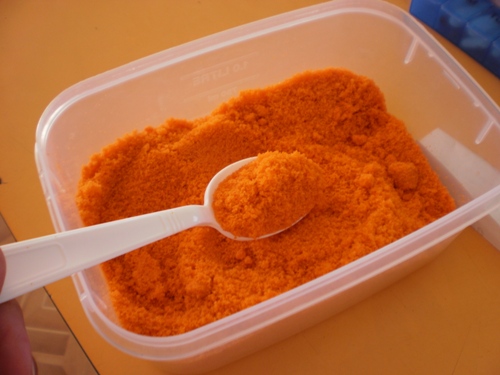 Orange colour sugar… I have never seen this before… have you?