Today is 20.10.2010… mmm nice… A very nice day indeed… I received two mega gifts… iPhone 4 and original Liverpool jersey… PS ordered iPhone 4 online about 3 weeks ago and was expected to reach after 23rd October… Suppose to be a surprise and I know nothing about it…. This morning I received a parcel… wow it's iPhone 4… was surprised and of course I don't know how to handle it at all… I am so used to my old Nokia phone which is so handy and strong… This one is so fragile and sophisticated… PS had to download everything before it can be activated… Vimel was behind all this too… Thank you to both PS and Vimel… will learn how to use it soon… 🙂 Vimel is Veera uncle's son… They are our family here… 🙂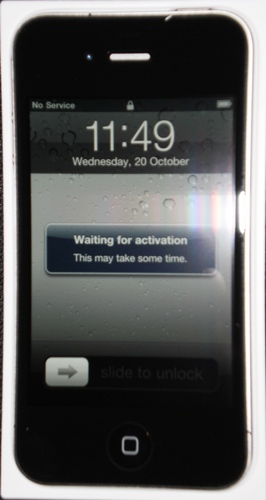 The other gift is my very own original Liverpool jersey… straight from Liverpool sent by Vimel's brother… I knew PS told him to get one for me during world cup season and Vimel said he will check with his brother… after that we just waited for it to be sent… actually we almost forgot about it… Today Vimel called PS and said the jersey arrived by parcel… wow another surprise… It is indeed a great day… MUST BAKE to celebrate it… 🙂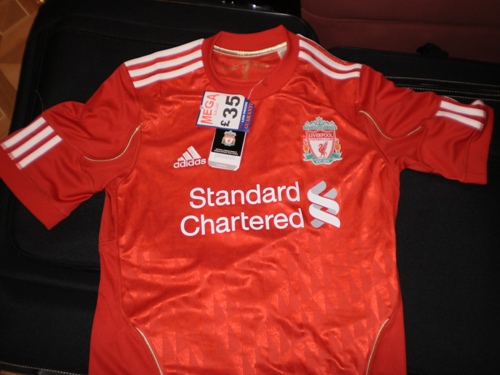 I made nasi lemak with ikan bilis sambal and chicken fried for lunch… cooking non vegetarian after more than 10 days… PS was going crazy without meat… 10 days Navarathiri a year is most he can survive…  Last night after I went to work he treated himself at Chicken Treat… I had to cook some non vegetarian item before he starts eating me… Uneshini and Suba were so busy doing their assignments… can't call them for lunch… we are meeting tomorrow for a movie… Life as we know it…
Just thought of Reena and she called… She was free to come over… She missed few of our outings and eating sessions… 🙂 It was 3pm by the time she came and was almost tea time… thought of baking something… Ok I have assistant to help me today… As usual flipped over the recipe book… Everyday muffins and bakes… nice and easy…Reena was so a great use today. .. she helped me measure the ingredient… wash up… and mess up too 🙂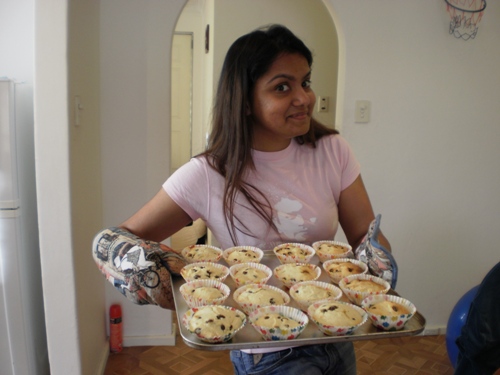 Chocolate chip muffins
Ingredients
3 tbsp soft margerine
200 g / 7 oz Caster sugar
2 Large Eggs
150 ml Whole natural Yogurt
5 tbsp Milk
1 tsp bicarbonate of soda (which I never use in any of my bakings)
115 g / 4 oz plain chocolate chips
Steps
1. Prepare 12 cups muffin cases (Can be a muffin pan or arrange on a baking tray)
2. Beat the margarine and sugar until light and fluffy.
3. Beat the eggs, yogurt and milk until combined.
4. Sift the flour and soda into the mixture. Stir until just blended.
5. Stir in the chocolate chips.  Then divide the mixture evenly in the muffin cups.
6. Bake for 25 minutes in a preheated oven on 200 Celsius.