7th Feb 2012… It's Thaipusam day…  Home alone as usual… Reena is coming later after work and we will go to Bala Murugan Temple Perth… As they say an idle mind is a devil's playground 🙂 Haha yes my mind is already thinking of food food and only food… Well it's Thaipusam and lets bake egg less cake or muffin… Google is my best friend for quick recipes. Thank you to www.madhurasrecipe.com… They have lovely egg less baking recipes… Finally made up my mind… The Egg less vanilla cupcake looks good… with vanilla icing on top… And of course I have to change the ingredient to my preferences… Vanilla is not always my favorite so changed the frosting to orange flavored… Turned out superb and we enjoyed it for tea before leaving to temple…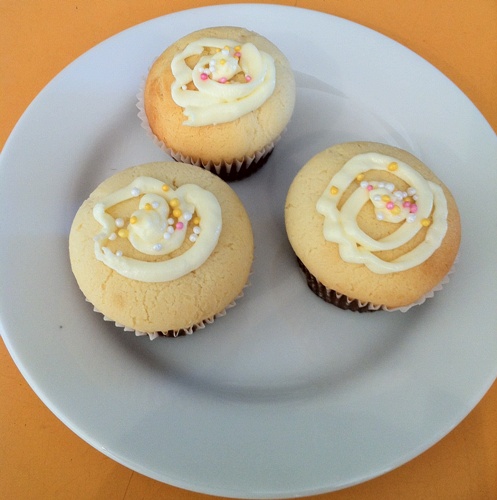 Here is the recipe… It's simple and quick one… I made 24 mini cup cakes… yummy…
2oz/66g  Butter
1/2 cup Sugar
1/2 cup Milk powder (I used instant)
1/2 cup Milk
1 cup Plain flour
1/2 tsp Baking powder
1/2 tsp Baking soda (I didn't add)
1/2 tsp Vanilla Extract
Method
1. Put butter in a bowl.. add sugar, milk powder, 2 tbsp milk and mix. Continue adding milk until all mixed up.
2. Mix flour, baking powder and baking soda together and mix well. Shift the mixture in the batter.
3. Add vanilla extract.
4. Bake at 180 Celsius for 20 minutes.
I used the 24 minis cup cakes tray.
For Icing
2oz/66g Butter (Room temperature)
1 cup Icing Sugar
1/2 tsp Milk
1 drop Vanilla Extract (I used orange extract)
Mix well… make a cone with a piece of baking paper.
Try it and I am sure it will turn out well. Enjoy 🙂