It is Sunday… Got up in the afternoon after an over night shift… 3 assignments pending… too much to read and catch up… made fried rice… the quickest lunch I could think of… Started with assignments… Something knocked on my head… hey it's Sunday get a life… There came Reena as usual the "monster" with Jee, friend visiting Perth from Malaysia… Obviously there is a reason to eat… What's for tea… Yes it's baking time…
Flipped the book for a quick chocolate recipe… MKR (My Kitchen Rules) is really another "devil"… eat eat and eat… Dark Chocolate Brownie is on the making now…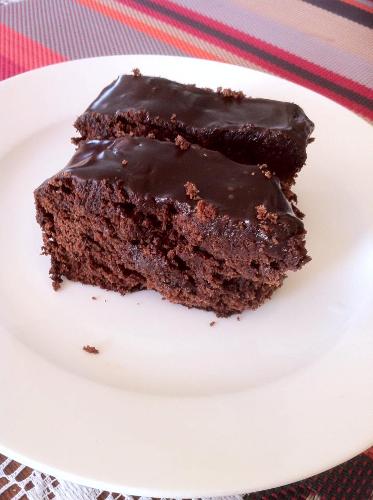 DARK CHOCOLATE BROWNIE
Ingredient
125g  Butter
180g Dark chocolate, chopped
1 cup Caster sugar
2 Eggs, beaten
2 teaspoons Vanilla essence
1 cup Plain flour
1/2 cup Sultanas
Method
1. Melt butter and chocolate together in a double saucepan(boiling water and bowl on top) Remove from heat.
2. Blend in sugar, eggs and vanilla.
3. Stir in flour and sultanas. Pour into a greased square cake tin.
4. Bake in 180 Celcius for 30 to 35 minutes. Cool in tin.
Icing
90g Dark chocolate, melted
2 tablespoons Natural yogurt
Spread over the brownies. Refrigerate until it set. which we never did. Ate half even before the cake was cool.
Ended up as a yummy brownie Sunday. 🙂