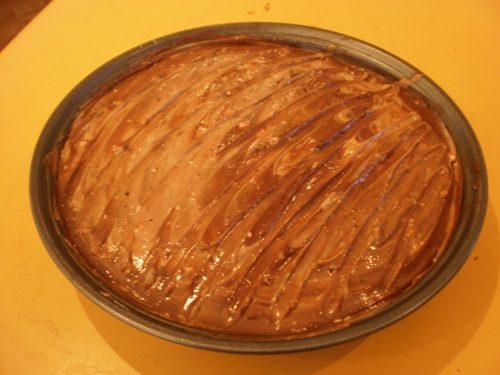 Just felt like baking something… Reena is with me… she is just back from work… We both had lunch and start thinking what to bake… Was on skype with Uneshini… she wanted cheese cake… past few days she has been telling… Thought we would do it together… mmm yeah me too felt like having a big piece of it… got to watch out for the calories and fat level thou… I have cheese blocks in the fridge… That's the time my 100 recipes book came handy… Marble cheese cake looks awesome… Takes 2 hours for refrigerate… ok its 5pm now… our cheese cake should be ready to eat by 8pm… what else needed in the ingredient list… Yogurt… double cream… plain and white chocolate… that's what will make the marble effect… For the base we need rolled oats… hazel nuts… and butter… Now I have to search the cupboard and fridge for the rest of the ingredient or at least close to it as always…
We are ready… are you…
Marble cheese cake
Ingredients for the base
225 g /8 oz Toasted oats cereal
50 g/1 3/4 oz Toasted hazelnuts, chopped (Used walnuts instead… thats what I had in the cabinet)
4 tbsp butter
25 g/1 oz plain chocolate
Ingredients for filling
350 g/12 oz Soft cheese
100 g/3 1/2 oz Caster sugar
200 ml Thick yogurt
300 ml Double cream
1 envelope powdered Gelatine (which I never used)
3 tbsp Water
175 g/6 oz Plain chocolate, melted
175g/6 oz White chocolate, melted
The ingredients are ready… now for the making… Shall start with the base…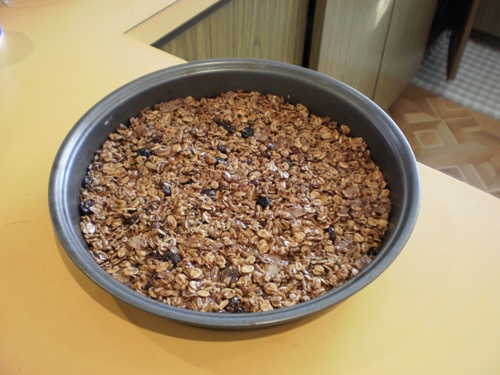 Steps for the base
1. Place the oat cereal in a plastic bag and crush ir roughly with a rolling pin.
2. Pour the crushed cereal into a mixing bowl and stir in the chopped nuts.
3. Melt the butter and chocolate together over low heat.
4. Stir into the cereal mixture.  Stir until well coated.
5. Using the bottom of a glass, press the mixture into the bottom of a cake tin.
Steps for the filling
1. Beat the cheese and sugar together with a wooden spoon until smooth.
2. Beat in the yogurt.
3. Whip the cream until holding its shape and fold into the mixture.
4. Divide the mixture in half.
5. Beat the plain chocolate into one half and the white into another half.
6. Place alternate spoonfuls of the mixture on top of the cereal base.
7. Swirl the filling together to give a marbled effect.
8. Smooth the top.
9. Chill the cheesecake for at least 2 hours. until set.