Windy and chilly Sunday… Good… summer is nearly over… I came back after night shift… Couldn't sleep… Me, PS and Reena drove around looking for shop to have breakfast…It's 7… 7.30am no restorant is open in Perth… These are the times we really miss home… Kampar is full of stalls and food every where… Home sweet home… Finally decided to go to market and do our own breakfast… Kuey Teow soup… After a good breakfast me and Reena lazying on the sofa watching TV… trying to sleep… Suddenly this recipe came into my mind… Saw it in one of my recipe books couple of days ago… Now as usual I start searching for ingredient in the kitchen…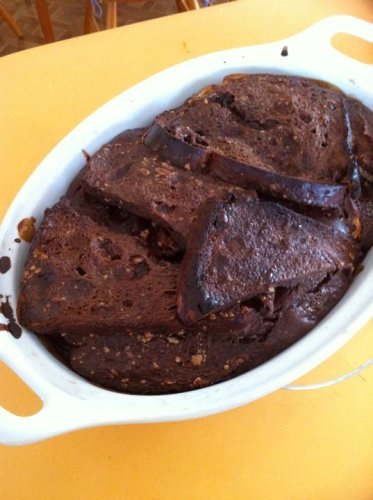 Dark Chocolate… Raisin Bread… Cream Cheese Pudding…
Ingredient
2 1/2 cups Milk
200g Dark Chocolate, roughly chopped
125g Block Cream Cheese (Philadelphia/Kraft)
1 tablespoon Cocoa
1 tablespoon Caster Sugar
4 Eggs
8 slices Raisin Bread
Icing Sugar for dusting (optional)
Pure cream to serve (optional)
Steps
1. Combine the milk, chocolate, cream cheese, cocoa and sugar in a saucepan over low heat. Stir until smooth.
2. Let it to cool and whisk in the eggs.
3. Cut each bread slice in half diagonally. Arrange bread triangles in a greased 2 liter baking dish.
4. Pour over the chocolate mixture and stand for 10 minutes.
5. Bake in 160 Celcius for 35 – 40 minutes or until set.
6. Allow to cool slightly and dust the icing sugar and serve with ice cream(optional)
Serve immediately… will be yummy and good smell…
Enjoy the pudding… Easy and quick recipe…