Butter Cake…. Simple and quick…
30th April… It's Reena's birthday… We went to Murugan Temple… It was a good start… Begun good and this girl suddenly fell on our leg for blessings at the temple… First time in my life someone did that… so touching and nervous too… Oh dear… she is a shocker :)… Indeed a blessed day…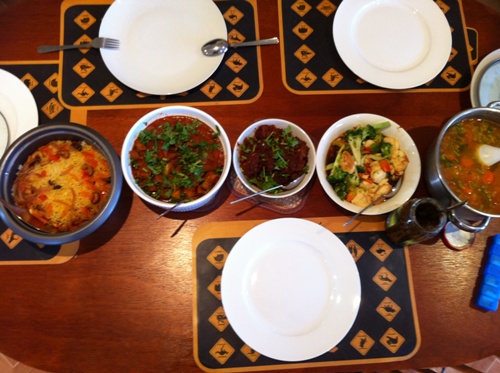 Lunch was good… I made lamb peratal (gravy)… potato peratal… mix vege… chicken tandoori… briyani rice… Uma and family came… Parames akka joined us too…
Now cake time… from last week Reena wanted only butter cake… I haven't planned what cake to bake yet… thought she would change her mind… No it's the birthday girl's wish… should see the way she ask.. so funny… "yekka yekka butter cake ka…." How could I resist… As usual all my recipe books are out from the cupboard… Found one simple and quick one…
Let's start…
Butter Cake
Ingredients
185g Butter (softened)
1 cup caster Sugar
1 teaspoon Vanilla essence
3 Large Eggs
2 cups Self raising Flour
1/4 cup Milk
Steps
1. Preheat oven 180 Celsius and grease the baking tin
2. Beat the butter, sugar and vanilla together with an electric mixer  until light and creamy
3. Add the one at a time and beat well
4. Stir in the flour and milk alternatively ( in 2 or 3 portios)
5. Stir in lightly. Spoon in the batter in the baking tin.
6. Bake for 50 to 60 minutes or until a skewer pulls clean from the centre of the cake.
7. Let it to cool for 5 to 10 minutes before the icing…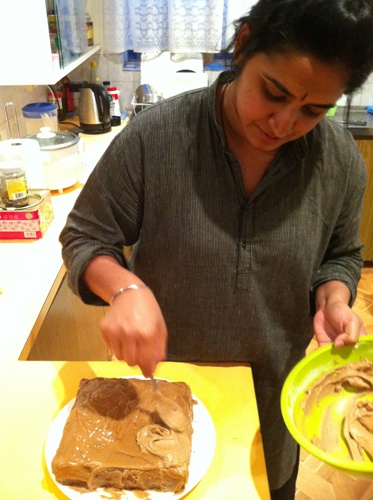 Chocolate butter icing
60g Dark chocolate (broken into pieces)
120g Butter
2 cups Icing Sugar (1 1/2 also good)
1 to 2 tablespoons Warm Milk
Melt the chocolate and set aside… Cream the butter.. add icing sugarand milk… Beat in chocolate until smooth…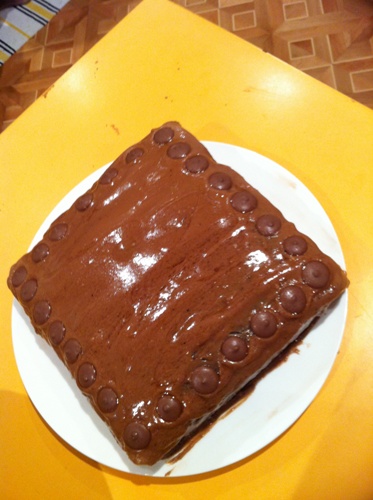 Icing done with chocolate button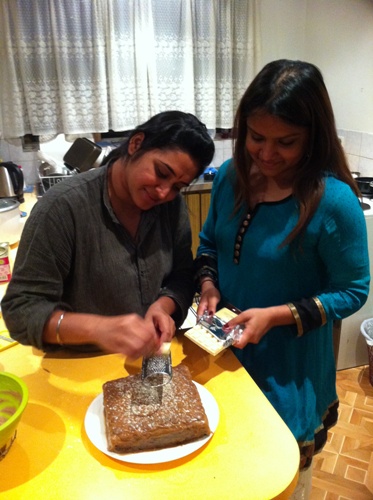 Finishing touch… Grating white chocolate on top…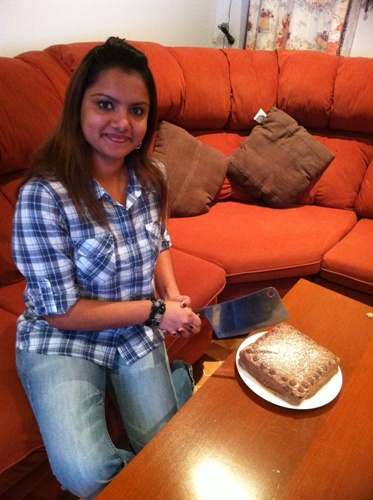 Cake cutting session…Reena with her Aruval….