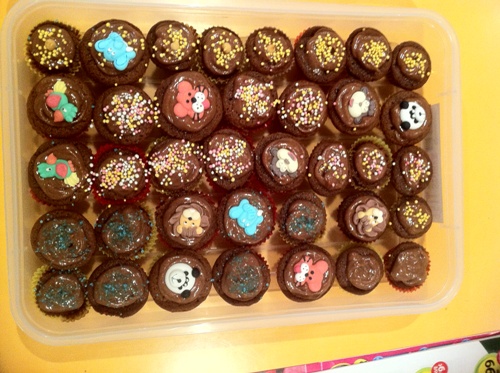 28th April is Jayshraj's 9th birthday… I am missing it again this year… Heart breaking however I want my baby to feel my presence there with him… I am helpless here yet I could do my best to make him happy… Jayshraj loves chocolate cake… His father is going back for his birthday this year after 6 years… It is not nice at all to be away from family… Baking and studies keeps me closer to myself and get away from this loneliness… Yeah let's bake… 🙂
Jayshraj is so excited about his birthday he decided to invite all his classmates and family and friends… He was sad I am not coming… well his Miyama is there so that's a great relieve 🙂  I promised to send him cakes… While chatting on skype he requested for the tiny chocolate cake which I made the last time he was here… Obviously with lots of chocolate topping which is his favorite…  I was excited too… Bought a rectangular container… Got to make it easy and portable to be carried in the hand carry bag… Bake 48 mini cupcakes in 2 mini cup cakes trays… 24 each since I am not sure how many will fit the container I bought… Left it to cool and iced it at night…. Yi Fang and Vimel came to visit… Yi Fang helped me decorate the cakes… It was fun and I was really happy and excited how Jayshraj will react for the cakes… As expected it turned out well and we packed it neatly too… had some left for me and Reena… Thank you to Vimel and Yi Fang…  Now it's all in PS's hand to deliver it safely to Jayshraj… Tomorrow evening it will reach Jayhsraj… 5 hours in flight plus travel time to Kampar home…
Tiny Chocolate cupcakes with ganache frosting the recipe
Ingredient ( Makes 20)
4 tbsp Butter, softened (1tbsp = 15g)
55g/2oz Caster sugar
1 Large egg, lightly beaten
55g/2oz Self raising flour
2 tbsp Cocoa powder
1 tbsp Milk
Method
1. Prepare 20 layer mini paper cases
2. Put the butter and sugar in a bowl and beat together until light and fluffy. Gradually beat in the egg.
3. Shift in the flour and cocoa and fold them together using a metal spoon. Stir in the milk and fold.
4. Fill a piping bag with the mixture and pipe into the paper case filling each half full. (small KFC spoon will do too)
5. Bake the cakes in preheated oven, 190 C for 10 -15 minutes. Transfer to cool rack.
Ganache frosting
100g/3 1/2oz Plain chocolate
100/3 1/2oz Double cream
1. Break the chocolate into a saucepan and add the cream.
2. Heat gently, stirring until the chocolate melted.
3. Pour into heat proof bowl and beat the mixture using an electric whisk for 1o minutes or until thick, glossy and cool.
4. Fill the piping bag, fitted with star tip preferably, pipe on top of each cake (again KPF spoon is an alternative)
5. Chill in for an hour. Decorate if you like.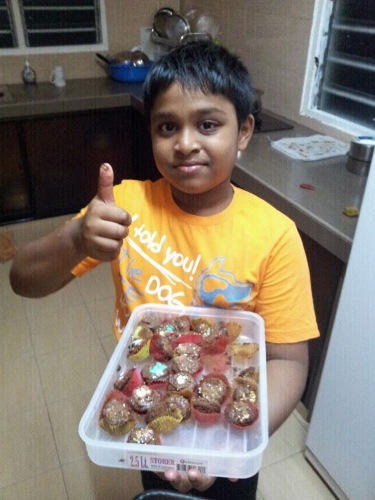 "Ambbima…. mmmmm yumm… Thank you… I like it a lot"
Next evening… I am here waiting eagerly for a call from Jayshraj… Received a photo of him holding the container 1st… so sweet… he looked so happy… He called and thanked me… Everyone at home loved it… In one photo sent to me, could see the proud parents… haha my daughter sent cake from Perth… Later we all managed to catch up in Skype and it was overwhelming… Amma was in tears…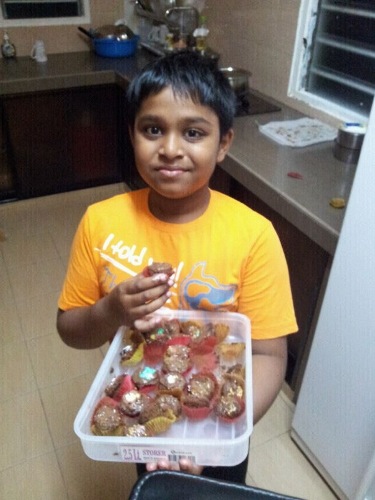 " Miyama Tata Amma all liked it…but why did you send only one container" 🙂
Haha not enough he reckon… He didnt even wait 5 minutes for it to chill in the fridge it seems… "Can I eat now… Is it cold now… " It's the love I sent for my darling kidiki… Miss you baby… Can't wait to hold my baby in arms soon…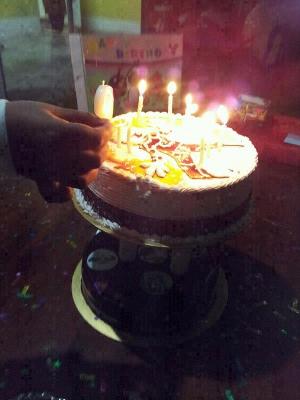 On 28th April… I watched the birthday party via Skype… Jayshraj was so happy running around with his friends… He had 2 tier cake… one Ben 10 character Heat blast and one chocolate cake with some Ben 10 stickers… Kavi akka made him a cake too… Nice… Everyone was there… Thangama and family,  Mamama and peripa, Boss peripa and family, Rani aunty, Cheche, Saravana maama and family, Maamathe, Machan, his classmates Brian and many more… Anuma was away in Sabah for a shoot… She missed the event too… Thambi did all the decorations and fixed the tent outside and he had to leave to work too… Most important JAYSHRAJ was very happy with all the gifts and cards… I packed few gifts and 3 cards… He was happy… after 9.30 I left to work and they were still celebrating…
Love is all about giving and making your loved ones happy… I am glad I did that and will do it forever….