Peripa 14th May 1933 – 7th February 2010
Perima 1st June 1949 – 25th November 2009
SOUL MATES
7th February 2010… we lost the icon of our family…Mr.  Thavamoney Nadason… Just two months after losing our perima on 25th november… This is a great loss and impact for all of us… He is my peripa… my dearest loving peripa
Last week I spoke to him… told him I am coming… he said we will meet in SMTD… cause he is coming to stay there for CNY and Nadesh 1st birthday… Its been a while since he came to SMTD since they shifted to Ipoh to stay with Saravana… I even bought him something… its heart breaking now that I can only get to see him in photo… Both of them…
Peria appa is the correct term… Father's elder brothers or his elder cousins are called Peria appa… which means big father… yeah all know this..
He is not my father's brother nor cousin… He is….. oh its hard to explain but……. he is our peripa… whom we grew up with… he was there in our lives all the time…
Perima is gem of a woman… she is every man's dream how a wife should be… she is so obedient… humble… bold… simple and strong  lady… what peripa says she never says no never cant and even if she needs to object anything she will say it in a very very humble manner… that is her way… Sarojini is their mantram… Both for peripa and perima… Sarojini is my mother… She used be their middle person… funny sometimes… Anyway its very difficult in this age to see such a sweet character lady…
Very sweet smile she has… I was always a bit scared of her… she is not anything like that though… We are more relax with peripa… perima is a good cook… she used to make sweet parupa vadai which I really love… I hope one of the akkas has picked up how to do it… I would love to taste it… She has this very sweet character… and all her daughters has inherit it… they are good wifes for their husbands… Perima always do what is best for their children… yeah all parents will do that…they are exceptional in this…
I was in primary school… about standard 1 or 2… cant really remember… when amma said there is this relative of ours will be moving in soon to SMTD (the place we were staying and still staying, tin dredging)… They all came… there was our young peripa and perima… with their children… one of the daughter is my age… she joined ACS Kampar school where all her other sisters joined… That is where peripa studies also if I am not mistaken… He has 5 beautiful daughters… fair like perima… and one precious son who is named after peripa's favourite Murugan temple in Tanjung Tualang… And Mooven Raj… he is so special for them…
In few months they moved in SMTD… Their house is near our Muniswaran Temple… our houses are walking distance… This is how we started… until that time I didn't even know we have a relative called Thavamoney and family… after that we became so close… everyday there is something to share with both family… SMTD is a small mining quarters… with only few Tamil family living there… Our childhood was a routine there… school… home… play… temple… shop… My father's elder brother and family also lived near us… He had three daughters and a son… Our dearest Late Jegathees anne… Chickedi we call him… he is now in loving memories of all of us… They are very lovely cousins I would say… It is one of the most saddest part in our live… losing our cousin brother at a very young age… GOD loves him more… that's what we can say to console ourselves…
KG SMTD and these relatives were our childhood… surrounded with uncles aunties and cousins… we didn't have much friends… Our fathers worked in the mining… Until the company was shut down because tin mining is not in demand market anymore… The MMC group sold the quarters houses to the worker who are wants to buy it… We bought the staff house which we were staying and still staying… Peripa bought the house they were staying and also the one attached to it… Its a semi detached house… and he renovated it… very lovely big house… Now his daughter is living there… Precious house with lots of memories…
N. T. Mani… That's what he is known as… He has many good friends… He is close to everyone… He is a very famous and talented charge man… he can repair almost everything… he is so good… any electrical stuff out of order we never throw… he can just fix it… he will try and try… never give up…
We adore his car… he had this old model car… few of them… sorry… not very familiar of the names… one of them is Ford Cortina…. Green colour car… My father didn't have car that time… we only go out with peripa… he will drive us to our destinations… those days car has a small fan… so cute… Meera is so naughty monkey… she always disturb everything in the car… peripa always scold her… she will be quite for a while and then start again… haha… that was fun time…
He used to smoke and drink… and you all know… he has the best mind setting power… he stopped smoking just like that… even young people cant do that… they get tempted… he was so determined to stop and just quit… very strong man…
He is a man with big pride and ego… but when it comes to his children's happiness… he would let go anything… nothing is more important than that… not many parents would do what they have done… Their happiness is seeing their children happy… like I said yeah many and most parents are like that… they are the best… They are both exceptional… They got all six children married before they could leave the world… before they pen down and say this is it our duty has been carried out carefully and accordingly… Now it is your siblings duty to stay together and live happily ever after… Like a fairy tale… beautiful fairy tale… As the Man of the house Saravana is doing his best with all the sister with him… they will cause they came from such a great teaching… Also perima and peripa is blessed with good son and daughter in law…
He loves to do community service…He would buy newspaper and pass it to appa after reading it… so appa does not have to buy… many small small thing like that counts… Peripa's main aim for KG SMTD was to get the roads done… every temple festival he would write a appeal letter and hand it over to the MP who comes for the opening prayers… he was so happy when the road was finally done in November 2008… He does all the temple works… Took care of the temple which was almost abundunt… Muniswaran will always bless the whole family for the deeds he and perima had done… yes of course we all share the joy and blessings… haha…
Another thing Peripa really loves is giving speech… he is good at it also… many times he is stopped from continuing his speeches because not all will enjoy… we will listen cause its our appa… Not forgeting he can sing well.. he has a lovely voice… "Alaya Maniyin Osai naan keeten" stil can hear him singing that song… I started learning Thevaram from him… he used to sing in the temple… and we follow…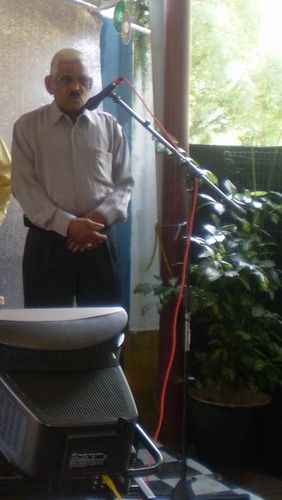 He is Mani Tata for all his grandchildren… very special is Arwind the 1st one…He is MY TATA for Jayshraj… he loves him so much… I would always want Jayshraj to remember that he had MY TATA…
Peripa and perima was in our lives from the day we knew them… they shared our joy… sorrow…problems… good times… bad times… wedding… child birth… all the small small functions…. birthday… deaths… all… same with us… we were with them… almost everyday we will visit each others house without fail…
I can go on and on talking about peripa and perima… I know I have missed out so many things…
They are so special in our lives… they will live in our heart for ever and ever… and we will all have their blessings…
LOVE YOU PERIPA AND PERIMA… This is a small tribute… Please forgive me if I have said or written any thing that might hurt anyone who is reading this…
SAI RAM……………..