After a long gap… I have been occupied with studies and work… Juggling time with assignments, exam preparations, work, volunteer and of course flying home on every little break I get… It has been a long hectic year… My last post was July 2012… Not that I haven't been baking or cooking or doing any other exciting stuff apart from books and job… Well I just didn't get the time to sit and write…  Today I decided to spare a little bit of my time to post this interesting recipe… Healthy too… Whilst sitting in the house preparing for exams next week, two important things I do when I need a break… Baking and eating… Moreover it's winter… got to keep the house warm with my stove… 🙂
I love avocado… of course I have to admit that I never had one back home… Now that's my dip, jam and why not try it on cake too… Avocado pound cake… Google is our best mate at all time… Searched for recipes since there is non in any of the recipe books in the cupboard… found few and the usual me… chose the easy and quick one… Now let's stop reading and start baking…
Avocado Pound Cake
Ingredient
1                    Avocado (pureed/mashed)
1 cup           Raw sugar
1/4 cup      Mascavo Sugar (can be substitute to brown sugar)
2                   Eggs (beat)
1 tsp            Vanilla essesce
1/2 tsp       Baking powder
1/4 tsp      Salt
1 cup          Plain flour
Always remember to reduce sugar if you need to… Eat healthy and stay healthy….
Method
1. Add the pureed avocado, raw sugar and brown sugar in a bowl. Beat in medium for 45 seconds.
2. Add eggs and beat for another 45 seconds. Mix vanilla.
3. Add baking powder and salt. slowly mix in the flour and beat just to combine all ingredient.
4. Pour the mixture into prepared loaf pan. Bake on 180 C  for 40 to 45 minutes on a preheated oven.
The top of the bread/cake will be darken a bit.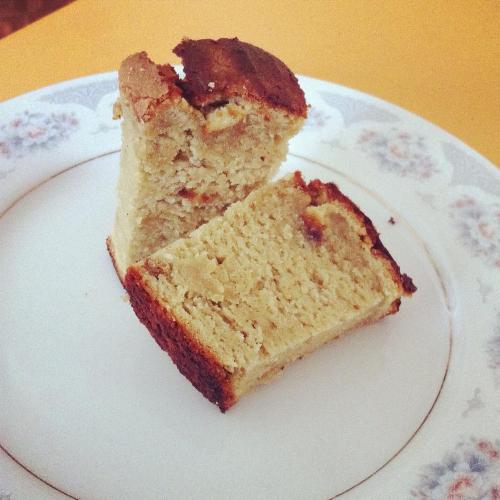 Healthy cake for tea is ready… Try it… for those who don't like avocado, you will sure love it too…
Here are some reasons why avocado is best for our diet… If you noticed we didn't add butter in the cake because avocado is an excellent source of healthy fat, omega-3 fatty acid; that can be used as fat replacement in baking too… It's contains nearly 20 mineral including high fiber, potassium (two times higher than banana), Vitamin E, A , D, K, folate…
See you all in another healthy post in Just Sharing… Love always…