Good day all… Oh yes I am still here… It has been more than a year, 15 months actually, since my last posting. I was away for awhile… Away from my laptop, not from baking or eating… Over the last one year, I have baked few easy and quick recipe cakes… Those who follow my previous postings would probably know me well by now… I am lazy in a way, hence will find the simplest baking method and ingredients… Alright let me stop this introduction note about myself and start with today's baking…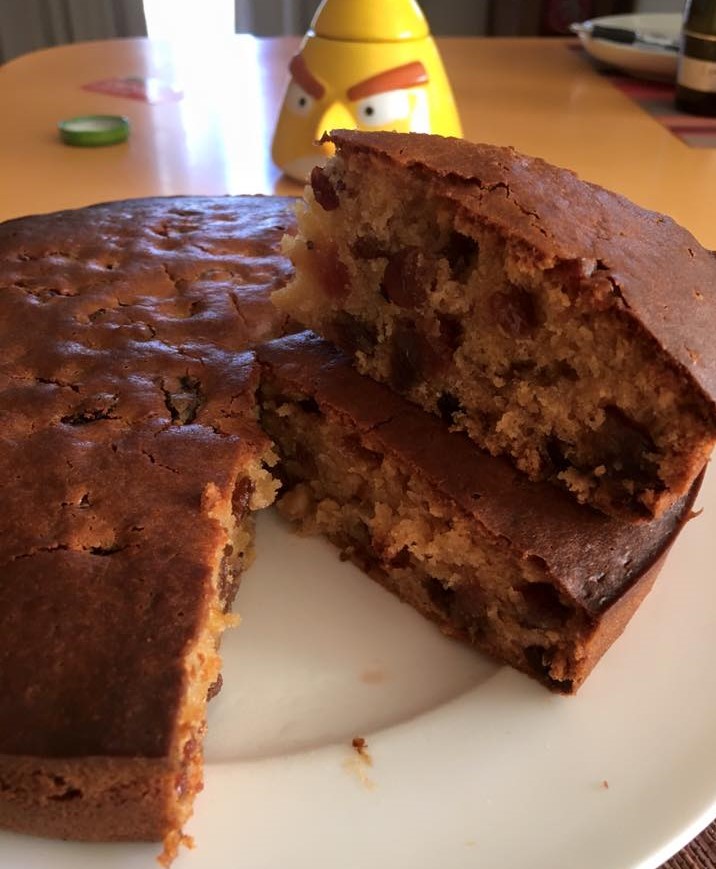 Egg-less fruit cake… No rum added as well… So it is guaranteed halal for everyone… I won't recommend this cake as a healthy diet cause we will be using a can of condensed milk as one of the main ingredient… It would be nice to have one or two slices for a cup of tea in the evening though… Yesterday I made 2 small cakes… one for home and one for the temple… Oh yeah, before we start, I actually tried this for the first time and trust me it is lovely… For all the fruit cake lovers… Let's start baking…
Ingredient
1 can (300ml)   Condensed milk
1 1/4 cups          Water
250 g                   Butter
500 g                   Mixed dried fruit
2 cups                 Plain Flour
1/2 teaspoon    Bicarbonate soda
1/2 teaspoon    Salt
Method
1. Preheat oven to 180 Celsius.
2. Put condensed milk, water, butter and fruit in a saucepan
3. Stir over low heat until combined and butter is melted. Set aside for 10 minutes.
4. Sift flour, soda and salt into a bowl, then add to the fruit mixture and mix well.
5. Place mixture in prepared tin and bake for 1 1/4 to 1 1/2 hours.
Note : If you have small baking tin this mixture might be a lot, so bake twice or use a bigger tin. Always remember, to be at the safe side pour 3/4 of the tin to give space for the cake to rise.
Sweet vegetarian fruit cake is done. Quick and easy. Try and let me know was it.