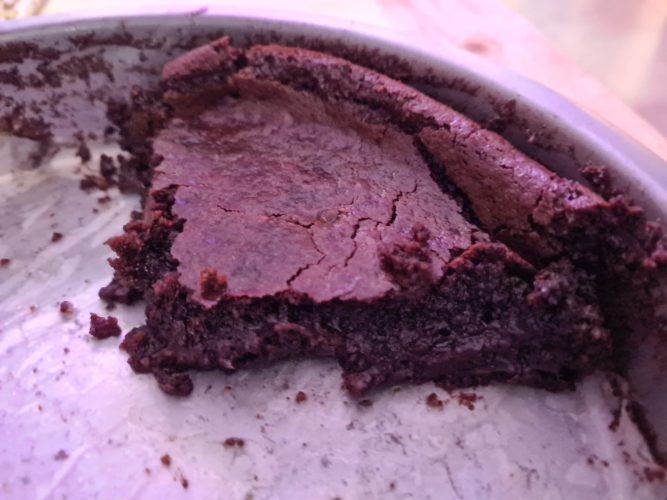 Alright I know that picture looks like we just had an avalanche in the oven. Well they say presentation matters whereby it carries some preconceived notion about the taste. However, I can assure you that the way it melts in your mouth is just exquisite. Almost exactly like a chocolate lava cake would taste. Jayshraj loved it, he kept going mmmmm yummmm mmmmm yummm, of course it was a bit animated but certainly gave me the most satisfying feeling as a mother and home baker.
Why almond meal? Well just thought I should for a change try some healthy recipes. Hahaha no such realisation, actually had some of the ingredients sitting in the pantry for while now. Don't really remember when, lovely and sweet Shindoo, the daughter of our friend in Perth, bought some walnuts, almond meal and cocoa when she visited me. Emphasising, that's for your baking Ambbima. Yeah, she literally calls me Ambbima, which makes my heart profoundly touched every time we speak, meet or even the thought of her. Now, that would have made lot more sense why I said lovely and sweet Shindoo.
Lately, I have been visiting Gayathiri cook spot a lot for her exciting egg-less recipes and found a new egg re-placer as well. 1/4 cup of yogurt to replace 1 egg, which works perfectly. Thank you www.gayathriscookspot.com and please check out her exotic egg-less recipes when time permits.
Now let me share the recipe and method :
1/2 cup of Yogurt
3/4 cup of Brown sugar
1/2 cup Oil (Olive, Coconut or vegetable oil)
1/4 cup Water
1 tsp Vanilla
1/2 tsp Salt
1/4 Baking Soda
1 cup Almond meal
3/4 cup Cocoa
1/4 cup Chocolate chips
Method
Yogurt, oil and sugar beat together for 3 minutes
Add water and vanilla and beat for 2 more minutes
Add in the dry ingredient and beat for another 3 minutes, making sure no lumps.
Stir in the chocolate chips.
Bake for 40 minutes in 160 degree.
Eat it hot.
It might be a bit sloppy but I guarantee, you will be delightfully surprised with the taste.